Groundbreaking Ceremony of a 2-storey school building for Unisan National High School last Feb. 18, 2013 together with Mayor Nonato Puache, Board Member Lourdes de Luna-Pasatiempo, School Principal Maam Samson, and Gov. David "Jayjay" C. Suarez.(QPIO)
Unisan, Quezon – the provincial government of Quezon unveiled several infrastructure programs last February 18, 2013, coinciding with the 137th founding anniversary of the said town.
The projects which were inaugurated were Unisan Medicare Hospital's out-patient department (OPD) building, and Basic Emergency Obstetric and Newborn Care(BEMONC) facility, day care center at Barangay Rajah Soliman, Gabaldon building at Unisan Central School, and the ground-breaking for the construction of a new 2-storey school building at Unisan National High School.
3rd district Congressman Danilo E. Suarez, Quezon Governor David "Jayjay" C. Suarez and Former 3rd district Congresswoman Aleta C. Suarez led the inauguration of the OPD building and BEMONC facility, along with several local officials from the municipality.
This was followed by the ribbon cutting ceremony for the day care center which would benefit over 40 children, the inauguration of the Gabaldon building, and the ground-breaking for 2-storey high school building which could accommodate around 700 students.
Gov. David Suarez and Cong. Danny Suarez underlined the provincial government's venture to bring clean and potable water for Quezon's 3rd district, which plans to build water processing plants in municipalities within the said area. The towns of Unisan and San Andres will be the first two to receive the infrastructure project.
Unisan Mayor Nonato Puache thanked the Suarez family in his speech addressing the barangay captains of Unisan. According to Puache, the province of Quezon is fortunate to have an administration which actively creates and provides opportunities that help uplift even the residents from the farthest of barangays.(QUEZON PIO)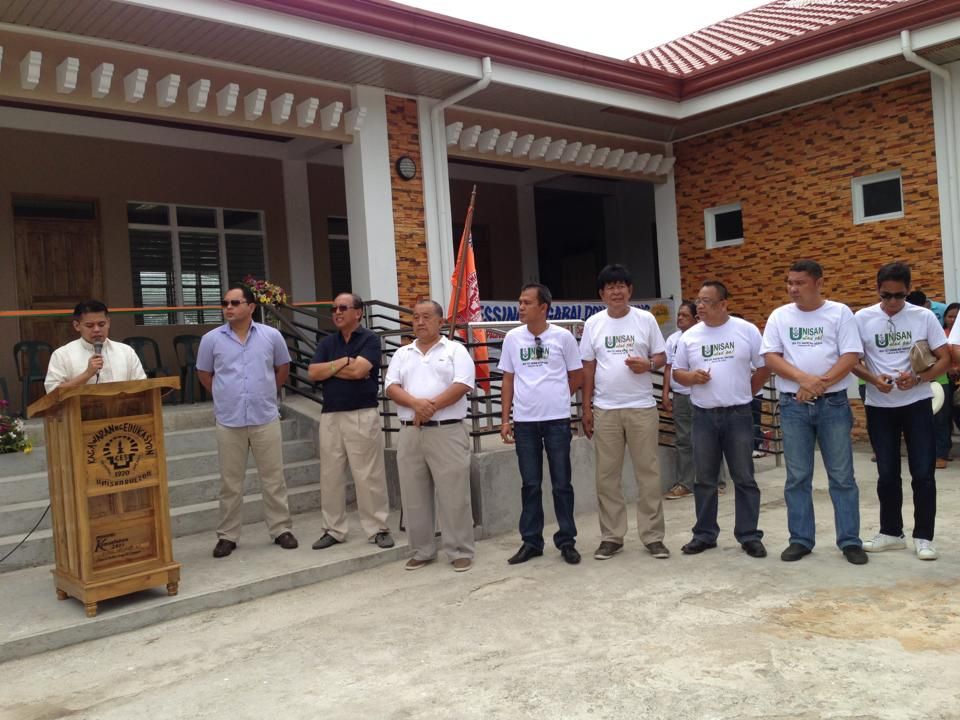 Inauguration and Blessing of Gabaldon Bldg-Unisan Central Elem. School on Feb. 18, 2013 together with Gov. David "Jayjay" C. Suarez, Cong. Danilo Suarez, Mayor Nonato Puache, Sangguniang Bayan members and faculty members.(QPIO)